Nashvillians and those who find themselves constantly passing through this mesmerizing city know that Nashville's weather is one big hit-or-miss. There are four seasons here, but if you catch yourself strolling through the streets in spring, autumn, or even in late summer evenings or more pleasant winter days, eating outside will be absolute perfection. Because of that, many of Nashville's popular restaurants have opened outdoor eating areas. The best part is that there is something for everybody here - whether you want to enjoy a sip of wine in a secluded garden or enjoy a cold beer on some of the best rooftops - Nashville has got you covered! So, without further ado, let's look at some of the best outdoor eating in Nashville.

East Nashville Restaurants
East Nashville is a hidden gem that only locals know about. It has been secluded from tourists and big crowds for decades. Today, this situation has changed, but
East Nashville is still one of the most undisturbed areas, especially when compared to Downtown
. So, if you were looking for some of the
best outdoor spaces in Nashville
that can also provide great eating options, East Nashville is the way to go.
For those seeking the ultimate relaxation and beach vibes, we recommend checking out a small tiki bar called
Pearl Diver
. Besides a fantastic selection of cocktails, this bar also offers small bites of various foods. However, if you are
in the mood for a bigger meal
, try going to one of two local's favorites -
Lockeland Table
or
Lyra
.
If you become a good friend with some locals, they will undoubtedly tell you about other hidden gems in East Nashville. But, if you do not, do not worry, we will tell you about those places. Namely, there are hidden,
secret restaurant patios that serve fabulous feasts for a great price
- one of them is called
Butcher & Bee
and the other
Margot Cafe & Bar
. You are welcome
!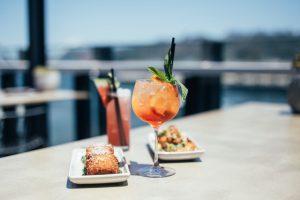 Looking for refined foods and a tranquil atmosphere? Give East Nashville a try!
Downtown Nashville Restaurants
As mentioned before, something completely different from East Nashville is Downtown Nashville. But, the difference lies only in the quietness, not in the tastefulness of foods and a fantastic variety of outdoor eating areas.
Even though this area of Nashville has many outdoor eating and drinking areas to offer, a couple of them stand out from the crowd
. One of them is a brasserie called
Liberty Common
, a typical French restaurant with one of the most exquisitely looking sidewalk patios that, of course, resembles Parisian street cafes. So, if you ever wanted to know what it's like to live in this European city, try starting your day at Liberty Common.
Downtown Nashville is full of restaurants, bars, and even parks with fast-food stands that offer great food that you can eat outdoors. It is just impossible to mention all of them.
It would be best to put on your walking shoes and start exploring yourself
! By doing that, you will undoubtedly fall in love with this fascinating city, and who knows, you may even decide to move here. If you decide you want the state of
Tennessee to become your new home
, with some reliable movers, your relocation will be a breeze
.
There is something about Nashville that brings people together through food.
Germantown Restaurants
Another area where you can find some of the best outdoor eating in Nashville is Germantown.
A small area but highly vibrant
. There, you can find an exciting mixture of historic and contemporary architecture. And, that same vibe is seen in most outdoor restaurants and cafes. They all have something unique and compelling about them. Moreover, Germantown is also a place where fashion-savvy people dwell! You do not have to be a fashionista to enjoy a drink or a meal here, but
it does not hurt to dress up and walk the streets as if you were on a catwalk
.
If this is something you desire, after all, you'd better start looking for some moving companies to help you relocate. Doing that is easy - just use a database such as
Best Cross Country Movers
to help you find a perfect moving company that suits your needs and budget. This way, you can eat in the best outdoor areas in Nashville anytime you want.
Whether you are moving here or just passing by as a tourist, be sure to visit patios and gardens belonging to restaurants of
Tempered
,
Silo
,
Geist
,
Butchertown Hall
,
5th and Taylor
, etc. These restaurants are all filled with beautiful flowers during the day and flickering lights during the night.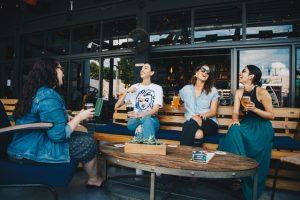 You will love spending your days with friends in Germantown.
12South Restaurants
Last but certainly not least, a place to look for some of the best outdoor eating in Nashville is a neighborhood called 12South. According to New York Times, this area is currently
'one of the most up-and-coming neighborhoods,
here in Nashville'.
Since this area is also famous for shopping, many restaurants and coffee shops offer outdoor eating to hungry shoppers
. However, one place stands out.
Urban Grub
and its patio have a Nappa Valley vibe - fresh, elegant, and isolated. But, if you are looking for something less romantic and formal and more hip and sensational,
Epice
is the place for you. Close to it is a place called
Bartaco
- one of the
best cocktail bars in Nashville
that also serves delicious food. Do not miss out on their salads and tacos - they will leave you craving more
.