BEST PLACES TO STAY IN NASHVILLE: BOUTIQUE HOTELS

With more than 51,000 hotel rooms in the Nashville Metro area to choose from (and counting), visitors have plenty of options when deciding where to stay in Music City. Whether you're most comfortable at a hotel with full-service amenities or looking for something a little further off the beaten path, Nashville offers a variety of accommodations to fit just about any travel style or budget. Boutique hotels can be a great option for travelers seeking a more personalized, local experience while still enjoying the amenities of a hotel.

Here are our picks for some of the best boutique hotels in Nashville right now: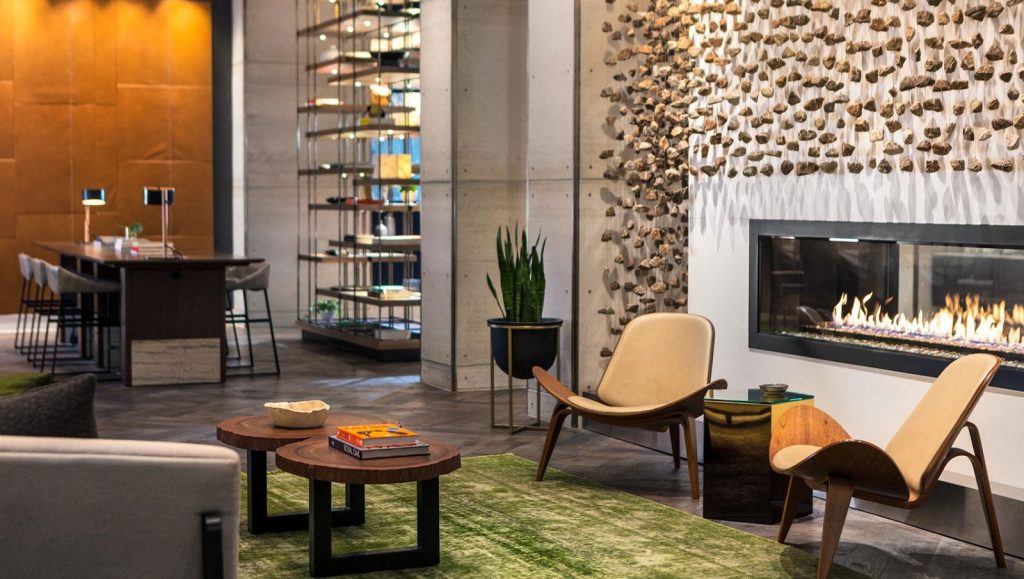 Kimpton Aertson Hotel

KIMPTON AERTSON HOTEL

Located in Nashville's Midtown neighborhood near Vanderbilt University, the Kimpton Aertson Hotel has a modern, eclectic aesthetic that blends industrial elements with warm, earthy designs and finishes. The hotel has 180 guest rooms including 12 suites and offers 12 types of room choices to accommodate everyone from the business traveler to those traveling with families or larger groups. Unique art pieces are featured throughout the hotel, which also features an outdoor living room, seasonal swimming pool with cabanas, and a 4,000-square-foot spa.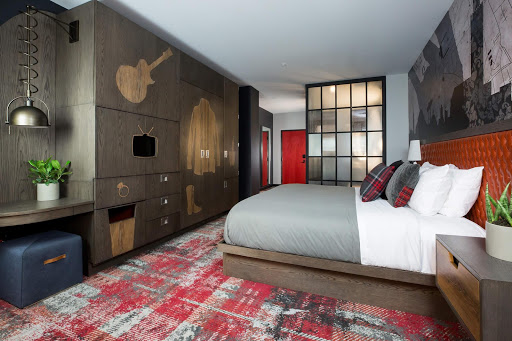 Bobby Hotel

BOBBY HOTEL

Guests looking to indulge their creative side will enjoy the retro-chic accommodations at the Bobby Hotel, located off of historic Printer's Alley in downtown Nashville. Guest rooms are spacious and the amenities are plentiful, including room service, valet parking, and even a car service that features a 1963 Lincoln Continental. The Rooftop Lounge offers great views of the city and is popular amongst locals and tourists alike for its unique aesthetic, which includes a retrofitted 1956 Greyhound bus and fun seasonal pop-ups like heated igloos on the rooftop during the winter and breezy cabanas during the summer.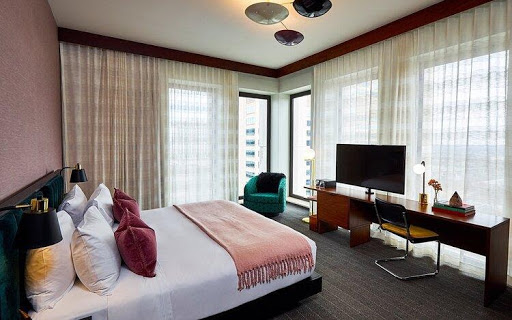 Fairlane Hotel

FAIRLANE HOTEL

The Fairlane Hotel is a mid-century modern haven in Nashville's downtown business and arts district. Many of the landmark building's original 1972 architectural details have been preserved or enhanced, such as the terrazzo flooring, brass accents, and wood paneling featured throughout the property. The hotel is also home to Ellington's Mid Way Bar & Grill, which serves up familiar mid-century fare with a modern twist or a five-course seasonal tasting menu.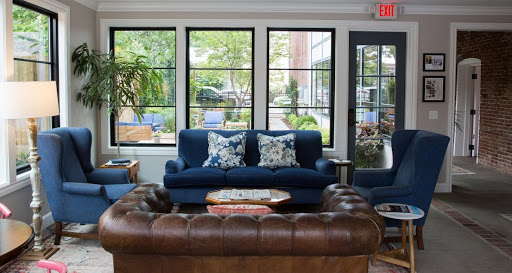 Germantown Inn

GERMANTOWN INN

With 10 uniquely decorated suites each named after a different U.S. President, the Germantown Inn offers guests luxurious accommodations with a cozy, personalized touch. The Select Registry Inn is located in the heart of Nashville's historic Germantown neighborhood, within walking distance of some of the city's best restaurants and bars and only a short car ride from downtown. The historic 1865 Federal-style home has been meticulously updated with modern artisan touches while maintaining many of the building's original architectural features, and guests can enjoy several nods to notable U.S. Presidents throughout the Inn's artwork and décor.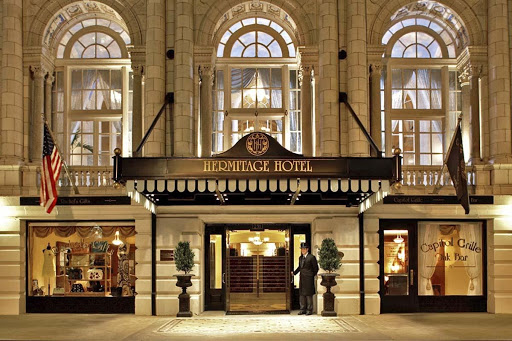 Hermitage Hotel

HERMITAGE HOTEL

Although it's one of the larger hotels on our list, the Hermitage Hotel in downtown Nashville is second to none when it comes to providing a first-class guest experience for travelers and locals alike. Known as the first million-dollar hotel in Nashville, the Hermitage Hotel was constructed in 1908 and favors a distinctive Beaux-Arts architectural style, blending classical Italian and French Renaissance elements like mahogany paneling and Italian and Tennessee marble throughout the elegant interiors. The Hermitage Hotel has hosted many high-profile guests throughout its history, from U.S Presidents to entertainers and athletes such as Charlie Chaplin, Babe Ruth, Patsy Cline, and Johnny Cash. It also served as the national headquarters for both pro- and anti-suffrage causes during the early 1900's and became the site where the women's suffrage movement reached its successful conclusion in 1920 when state legislators ultimately cast their votes to ratify the 19th Amendment.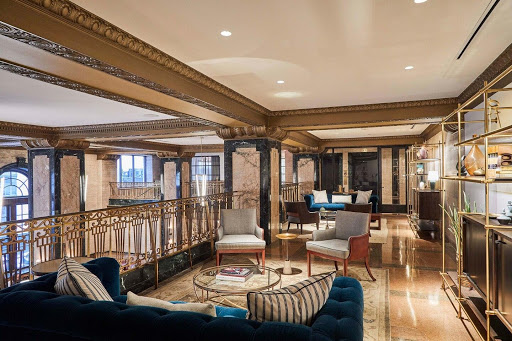 Noelle Nashville

NOELLE

Noelle is a historic luxury boutique hotel near Printer's Alley in downtown Nashville. With an emphasis on creativity and collaboration, Noelle gives a nod to local makers and artists in the gallery-quality artwork, artisanal treats, and handcrafted cocktails and dining experiences offered throughout the hotel. Guests can also enjoy some quiet time away from the hustle and bustle of the city in the Trade Room, a quaint reading room that houses artifacts from the original hotel and Noel family.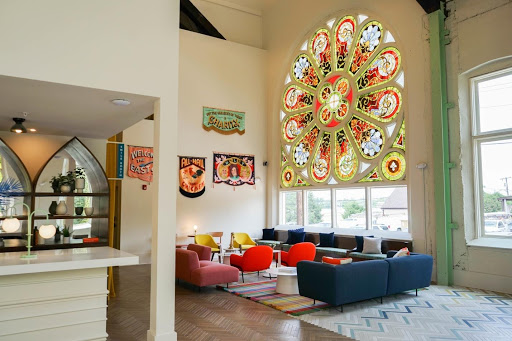 The Russell

THE RUSSELL

Tucked away in hip East Nashville, The Russell is a 23-room boutique hotel housed in a refurbished 115-year-old church. Many of the property's original features have been maintained or repurposed, including the building's stained glass windows, brick walls, and even some of the original church pews which have been repurposed into headboards for the guest rooms. Perhaps its most unique feature is The Russell's concierge-less service, which allows guests the privacy to come and go as they please via the property's technology-driven system. The Russell also notes that a substantial percentage of each night's proceeds is donated to local homeless shelters and ministries.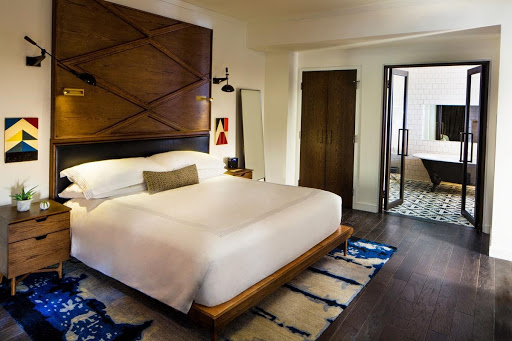 Thompson Nashville

THOMPSON NASHVILLE

Thompson Nashville is located in The Gulch neighborhood between Midtown and downtown Nashville. With its sleek, mid-century modern interiors and warm touches like brushed brass and hardwood floors, the Thompson offers a sophisticated stay for the savvy traveler. Marsh House, located on the ground floor of the building, serves up elevated seafood and Southern-fusion favorites, while the hotel's rooftop bar, L.A. Jackson, is a favorite hot spot for locals and travelers alike.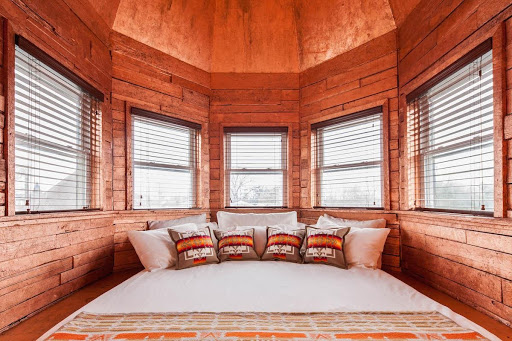 Urban Cowboy

URBAN COWBOY

Located in a historic Victorian mansion in East Nashville, Urban Cowboy is one of the smaller boutique properties on our list with eight suites available for guests to stay in. Each suite is uniquely decorated and comes with an equally fun and unique name to suit its style, from Midnight Rider to The Captain or The Muse. The Public House Bar, tucked away in the property's Stable House, is a popular watering hole known for its handcrafted cocktails and casual vibe.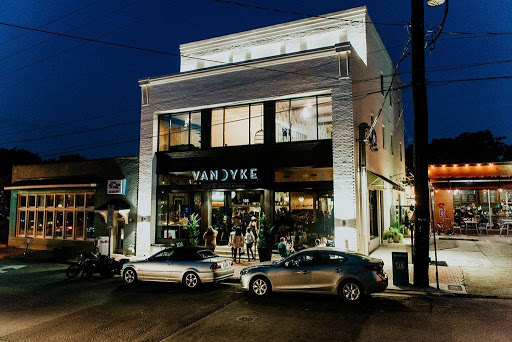 Vandyke Bed & Beverage

VANDYKE BED & BEVERAGE

Proudly touting itself as fearlessly local, Vandyke Bed & Beverage is an eight-room boutique hotel located in East Nashville. Each room is designed and decorated to embody the essence of the alcohol for which it is named — Rum, Tequila, and Champagne, to name a few — as the property's bar and courtyard serve as a gathering place for travelers and locals to enjoy handcrafted cocktails and cuisine. For those who want to venture out a little further, Vandyke Bed & Beverage is conveniently located within walking distance of some of East Nashville's trendiest bars, art galleries, and restaurants and just a short car ride away from downtown. Take a look at our behind-the-scenes tour of Vandyke Bed & Beverage and see for yourself!