Whether you're looking for a fun-filled holiday weekend, an inspiring creative retreat, or a relaxing romantic getaway, there is something for everyone when it comes to places to stay in Nashville. While there are more than 51,000 hotel rooms in the greater Nashville metro area to choose from, the city also offers a large variety of both short-term and long-term rental options for those who might be seeking a more customized experience.

After touring this beautifully restored vintage trailer at No. 9 Farms in Ashland City, we decided to take a look at some of the more unique Airbnb listings around Nashville.

This lovingly restored 1949 Spartan "Blueberry" trailer is tucked away in the trees above the sprawling organic gardens at
No. 9 Farms
in Ashland City, just outside of Nashville. Designed by the farm's owner and local musician, Brian Oaks, the trailer accommodates up to two adults and has a spacious deck featuring an outdoor kitchen and lounging area, as well as a private outdoor bath and shower. Guests can enjoy various hiking trails throughout the property and can even purchase fresh produce, eggs, French Roast coffee, and organic herbal tea directly from the farm to enjoy during their stay.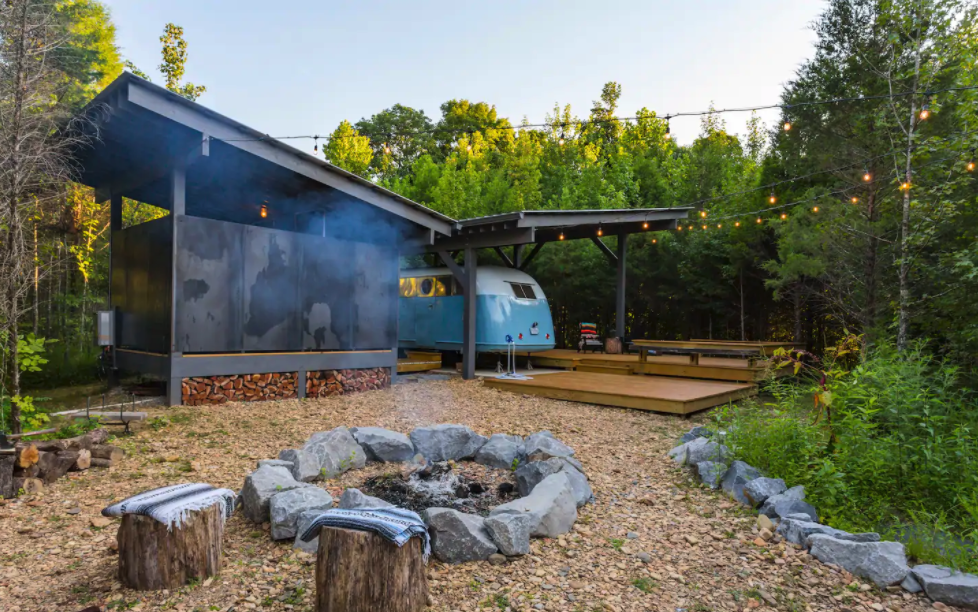 Photo from Airbnb
Touted as the most wish-listed Airbnb in Tennessee, this custom-built tiny house in south Nashville has been featured in
Travel+Leisure
,
Southern Living
,
House Beautiful
, the
Tennessean
, and
USA Today
. The cozy space can sleep up to four guests and blends the convenience of modern appliances and air conditioning with the aesthetic of repurposed vintage cabinets and a claw-foot tub.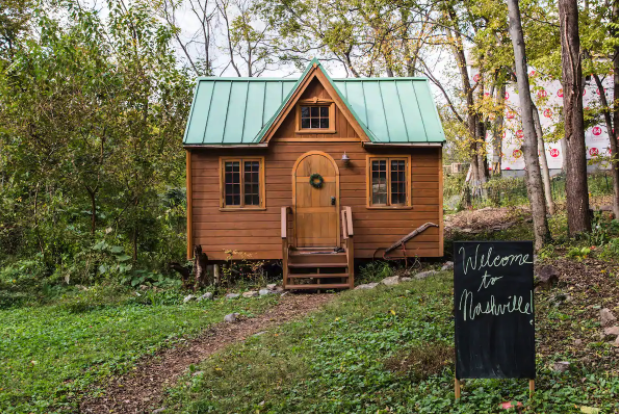 Photo from Airbnb
This agritourism destination near Whites Creek is located about 15-20 minutes from downtown Nashville. The renovated two-bedroom, two-bathroom loft accommodates up to five guests and includes a full kitchen and recreation area, as well as an outdoor fire pit and deck space. Guests can arrange to participate in various "hands-on" activities at the 96-acre By Faith Farm, which supports its mission to grow organic food for local food banks.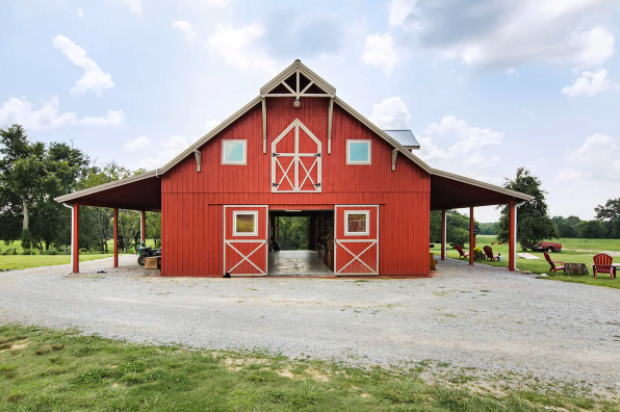 Photo from Airbnb
For those looking to get more in touch with nature, this rustic two-person cabin is located at The Farm at Deer Crossing, a 51-acre farm and agritourism destination just outside of Nashville in Mt. Juliet. The secluded cabin has a private deck and hammock for guests to enjoy the outdoors as well as an outdoor cooler and mini-fridge. The Farm at Deer Crossing offers seasonal berry-picking outings and pick-your-own Christmas trees, among other activities.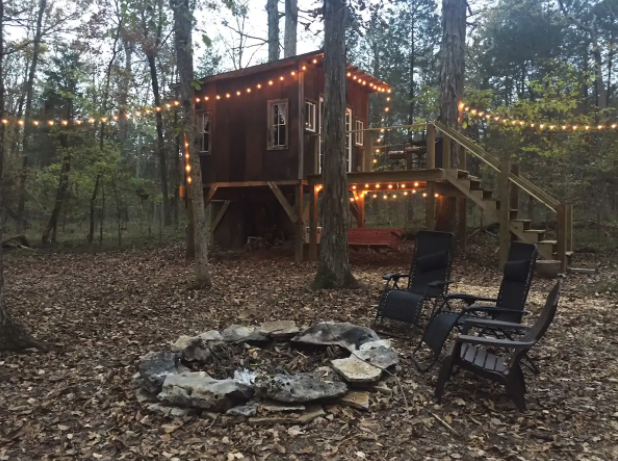 Photo from Airbnb
This whimsical two-bedroom, one-bathroom villa is located in Nashville's historic Edgehill neighborhood, just steps away from Music Row. With brightly-colored rooms, sleek finishes, and hand-crafted crystals and artwork throughout, this property is full of creative inspiration. The private patio has space for yard games, an outdoor fire pit, and even a stage, and the painted "bookcase stairway" and butterfly tree are tailor-made for fun photo backdrops.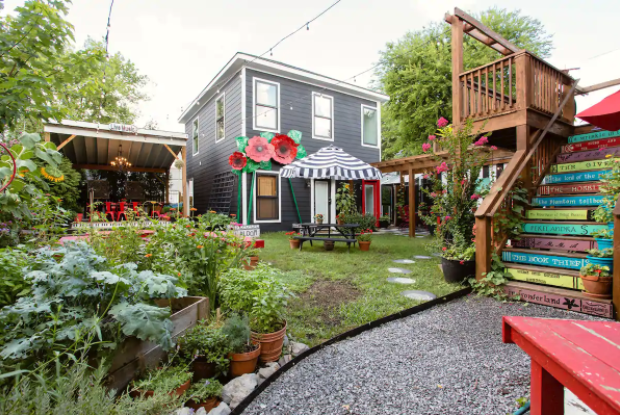 Photo from Airbnb
With an eclectic aesthetic and unique art and objects throughout, this two-bedroom charmer in Nashville's chic 12-South neighborhood provides a cheerful retreat from the hustle and bustle of the city. The cozy sleeping nook appears to be fit for a queen and colorful touches throughout the space inspire creativity.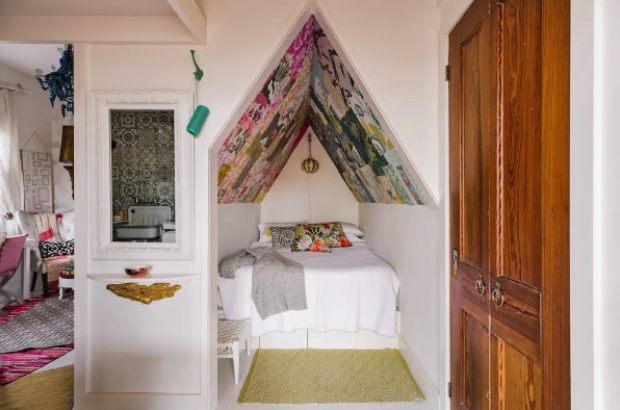 Photo from Airbnb
Dubbed "Draper's Cottage," this 1912 bungalow in East Nashville is currently home to folk musician and songwriter Jeni Hankins, who opens up her home to guests when she is on the road. The one-bedroom, one-bathroom home can accommodate up to four guests and is filled with curated vintage pieces, from a fully operational Singer 201 sewing machine to a photo-worthy Eastlake sofa. Fellow musicians will also find an assortment of instruments to choose from, including a piano, banjo, mandolin, and several guitars.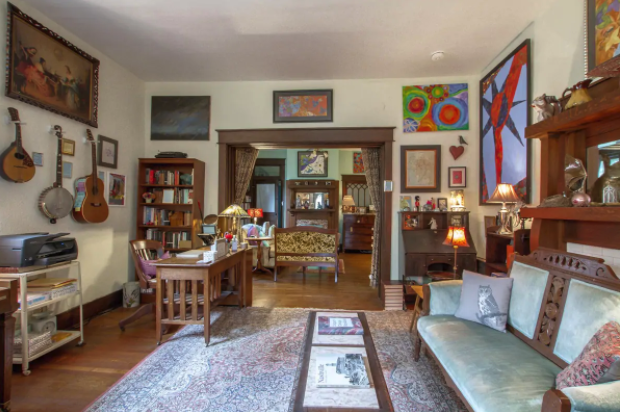 Photo from Airbnb
Just a few blocks from Broadway in downtown Nashville, this stylish one-bedroom condo is located in the city's oldest high-rise apartment building. Watauga Flats was built in 1903 on the site of President James K. Polk's Nashville home and still stands tall though much around it has changed. While the condo's contemporary finishes and central locale might appeal to tourists and business travelers alike, the building's history still peeks through in the exposed original brick walls.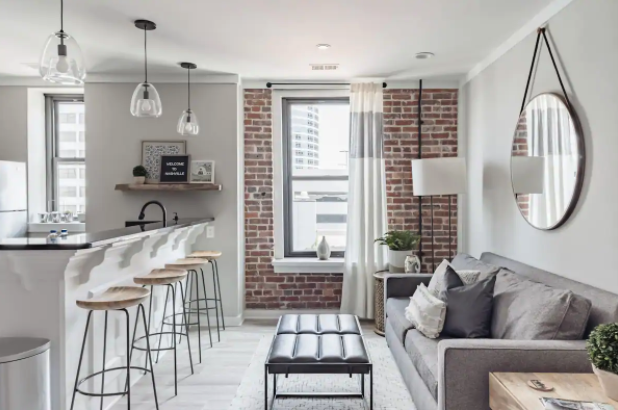 Photo from Airbnb
This one-bedroom, one-bathroom loft in downtown Nashville catches the eye with a unique, hand-painted mural and trendy, mid-century furnishings. Whether you're in Nashville for business or for fun, this urban getaway is centrally located just steps from Broadway. As an added bonus, the property's host Anchor Rentals claims to donate a portion of its bookings to support local services for people experiencing homelessness, such as the Nashville Rescue Mission, ShowerUp, Room In The Inn, and People Loving Nashville.
Photo from Airbnb
This sleek, one-bedroom, two-bathroom guest house in trendy East Nashville boasts a plethora of glass and earthy wood details. Floor-to-ceiling windows allow for abundant natural light and open up onto the property's Spanish-inspired courtyard. The house features a unique fescue-topped roof and a private, outdoor patio space.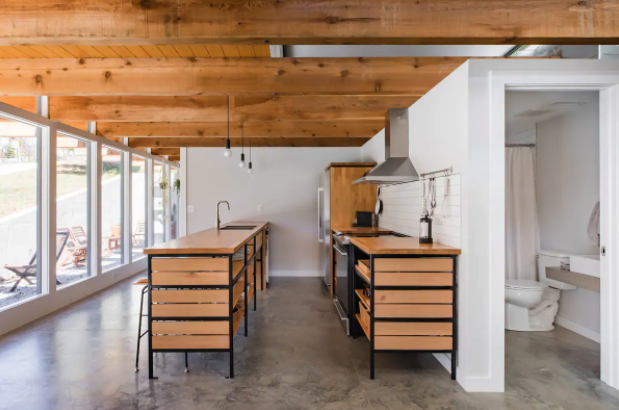 Photo from Airbnb
(
Note: The Anderson Group is not affiliated with Airbnb or any of the properties listed above. Information included in this list is based on claims and information offered in each Airbnb listing and does not constitute our recommendation, affiliation, or endorsement of any of the above properties or claims made by property hosts
).
Interested in exploring beyond Nashville? Don't miss some of our favorite
hidden weekend getaways in Tennessee
!jf