Great views, exquisite custom homes and estates, privacy and security, excellent location, and numerous world-class amenities — this is only a part of what makes luxury communities in Nashville so popular. The price of escape and peaceful, more than comfortable living in the vicinity of Music City is worth paying for.

The Grove
6200 Wildings Blvd, College Grove, TN 37046
The safe, peaceful, and majestic community of The Grove is a 1,100-acre luxury gated community located in College Grove, in Williamson County, just outside of Nashville. This gorgeous community has many amazing amenities. These include a golf course, a private clubhouse, a spa, and a professionally staffed fitness center. Furthermore, it boasts resort-style pools, parks and trails, a kid's discovery club, a general store, and an organic garden, tennis and sports courts, and an equestrian center.
Being one of the wealthiest counties in the U.S., Williamson County is proud to have high-grade schools. If you are from outside of Nashville, it is a great place to raise a family once you
relocate with success to your chosen community
. Moreover, with The Grove's signature builder team, each artisan-built home is stunningly unique.
This estate club community offers a serene escape into a luxurious country living with a cozy family atmosphere.
The Grove's custom homes' prices range from $1 million to $3 million. In case you shop for a custom homesite, you'll be looking at a price range from $165,000 to over $400,000. Moreover, those property owners who wish to be golf members are asked to pay a membership fee of around $550. Non-golfers pay around $200 a month to access the remaining amenities.
Troubadour Golf & Field Club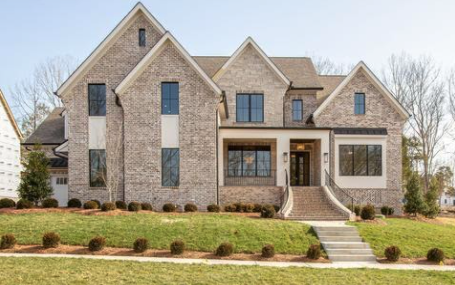 8000 Club View Dr, College Grove, TN 37046
Troubadour is a private community also located in College Grove. It spreads over 860 acres and features 369 homes only 24 miles away from downtown Nashville. Some exclusive amenities include an 18-hole top-notch Tom Fazio golf course, outdoor pursuits, live music in an outdoor amphitheater, a wellness center, and more.
This exclusive private community supports both active and leisurely lifestyles, mixed with uncompromising indulgence and high-end daily life. Troubadour offers its residents an authentic experience of the countryside, music, wellness, and clubhouse charm throughout the year.
If you're an outdoorsy type, you will enjoy equestrian excursions, swimming in the lake, or canoeing. Music lovers will love the concerts, music events, and having fun at Troubadour's own recording studio. There is everything that Tennessee offers here, even opportunities to
meet new people once you settle down
, but with more than a touch of luxury.
Elegant residences provide magnificent views of the breathtaking Tennessee hills. Whether a future property owner is in for an estate, golf cottage, or cabin, relaxed living and entertainment are assured in Troubadour.
Westhaven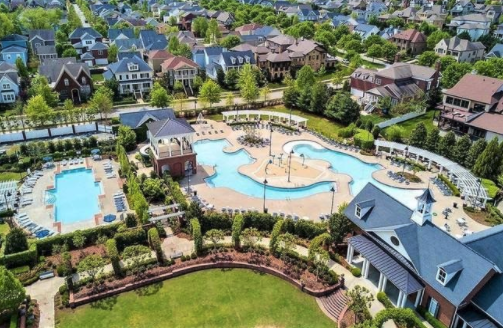 1001 Westhaven Boulevard Franklin, TN 37064
Westhaven is a large luxury community located in Franklin, TN. Besides an Olympic size swimming pool, the community offers a golf course, a country club, restaurants, a fire station, a grocery store, boutiques, financial services, a hotel, healthcare, and more. This master-planned community is a perfect mix of a commercial district and resort-style amenities. Residents also have a drop-in daycare, an art center, and a movie theater at their disposal.
In a place surrounded by Tennessee hills, 6 custom home builders have made sure to make Westhaven a true haven. Interested homebuyers can find award-winning new homes for prices ranging from $500K to $1.5 million.
Aside from world-class amenities in Westhaven, those who expect to see country celebrities in the Franklin area won't be disappointed. Some of them are Wynonna Judd, Naomi Judd, Kristin Cavallari and Jay Cutler, and Brad Paisley. DeMarco Murray, the former running back for the Tennessee Titans, has also chosen this community as his home. The Westhaven gated community is a short drive away from downtown Franklin and 14 miles away from Nashville.
The Governors Club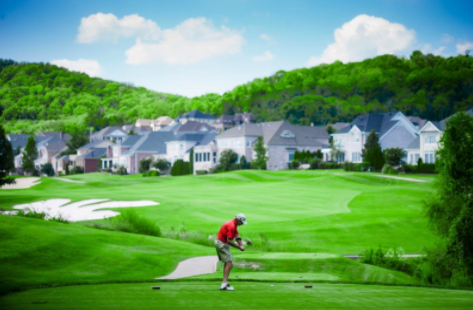 9681 Concord Rd, Brentwood, TN 37027
Located in the heart of Brentwood, TN, the Governors Club is one of the luxury communities in Nashville. It is a prestigious community featuring an Arnold Palmer Signature golf course, a resort-style swimming pool, a clubhouse with private dining rooms and a restaurant, and a pavilion.
Pleasant Hill Mansion was originally built in 1854 and is available to residents. It is also open to non-residents and can be rented for a variety of special events. Weddings are by far the most popular occasions on which people visit this remarkable 19th-century mansion.
Aside from the Governors Club, Brentwood, TN, is home to artists like Dolly Parton, Tim McGraw and Faith Hill, Jack White, Amy Grant, and Vince Gill, as well as Hillary Scott-Tyrell and Chris Tyrell. If you wish to join the neighborhood, note that the prices of homes for sale in this Middle Tennessee private golf club community range from $700k to over $5 million.
The Governors Club is also known for being one of the few gated luxury communities in the Nashville area that are guarded 24 hours a day. This added level of security ensures that this exclusive enclave is an ideal choice for all who wish to live far away from prying eyes.
Benefits of luxury communities in Nashville
Starting with a greater sense of security, there are benefits to aplenty of luxury gated communities. It isn't surprising that families with children opt for such communities as they present a safe haven for kids.
Those who value their privacy above all else can rest assured that these havens often offer secluded properties, ideal for private living. On the other hand,
luxury gated neighborhoods
are isolated from the other nearby communities and elicit a sense of togetherness, understanding, trust, and familiarity. Access to a number of shared luxury amenities makes for very comfortable living.
One of the best advantages of gated communities is that you can restrict access to visitors and, thus, solicitors. Allowing only the loved ones and chosen people to visit you truly makes life more peaceful. The absence of traffic, a green environment, and eco-friendly living support a healthy lifestyle, combined with excellent maintenance these communities guarantee.
If you are interested in real estate services to find a home in one of the many great luxury communities in Nashville, please reach out and we will help you!