When you want your home to stand out in the housing market, it only makes sense to consider some updates that might boost your returns from the sale. Unfortunately, it can be hard to pinpoint upgrades that increase home value sometimes. Things that seem worth their hefty price tags often won't add the same value as they cost. Here are some of the best home improvement bets before you sell your home; you'll notice that almost all of them are lower-cost items, rather than full-on remodeling because it's easier to get a small bump in price than a large one.

Subtle Upgrades in Hardware and Cabinet Fronts
Rather than redoing kitchens and bathrooms, the big ROI is in noticing the most outdated items, like hardware or fixtures, and replacing those with more modern-looking ones. A budget-friendly remodel might just replace the fronts of cabinets; you also might opt to just get a fresh coat of paint on the cabinets. High-end kitchen remodels are great if you are going to stay and enjoy them, but right before the sale, they end up being projects with poor ROI.

Refinishing Hardwood Floors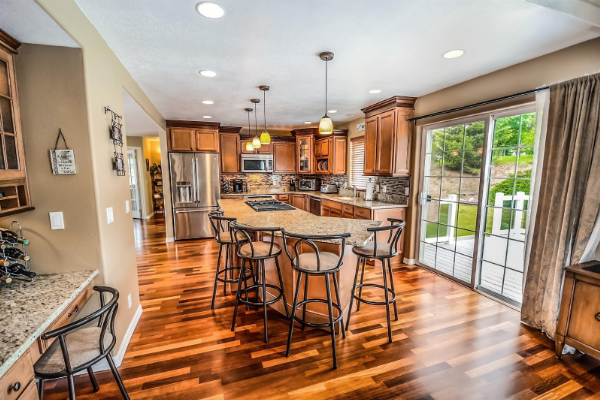 If you have hardwood floors already, refinishing them can really change the look of a room from more drab to more wow. Replacing all of the floorings in the home can vary in terms of ROI, depending on the condition of the current flooring and the likelihood that the buyers might want a different kind of flooring. Refinishing, as a less expensive project, has a more reliable return.

Roof, Siding, and Exterior Paint
Curb appeal matters and siding repair/replacement or exterior paint are often good investments partially because they really change the look of the house. Picking neutral tones or tones your real estate agent says are doing well can subtly bias a buyer in favor of your home. A new roof is considered a real boon, given that replacing them is costly, so being able to showcase that project tends to create a positive return in sale price.

Energy-Efficient Add-Ons
Everyone likes the idea of having a lower utility bill long-term, so you can emphasize energy-saving additions to your home. These energy-efficiency projects include adding low-flow toilets, getting Energy Star appliances, and getting efficient windows that insulate the house. Many of these projects aren't a huge additional cost, so they easily recoup their cost.

Deep Cleaning and Lawn Care Improvements
While not technically an improvement, hiring a professional cleaner and a great landscaping/lawn care team right before going to market has a huge value. Most people see a major shift in the potential purchase price, so make plans to have these key projects done so that your home looks sparkling clean and has a well-manicured lawn.

Improving your home for sale can make a big difference, especially in a market where buyers are evaluating many different kinds of homes. The more appealing features your home has, the greater the likelihood of situations like multiple offers, which can really boost your sales potential.